01 February 2017
Funny things happen when you're on vacation in Miami. This was a family vacation a couple years ago over the Christmas and New Year's holiday. We were all having a great time, catching some rays, spending time in the pool and at the beach. Gotta say, it was pretty nice. But I also had to hit a few flea markets / thrifts / stores etc… Of course the setting was gorgeous.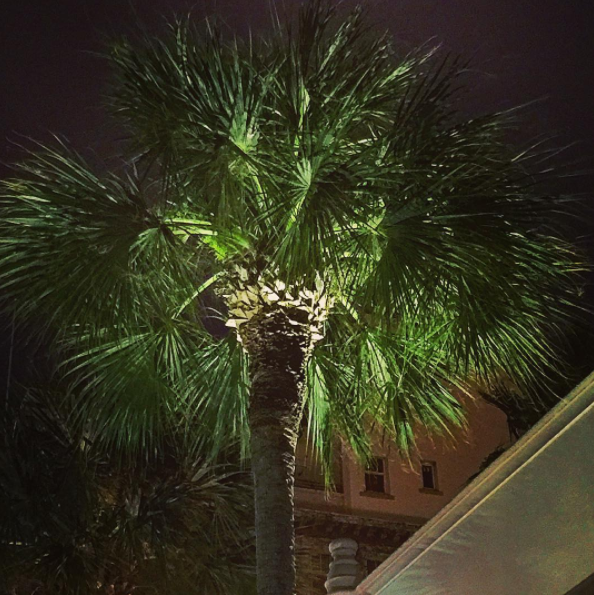 And the modes of transport were interesting.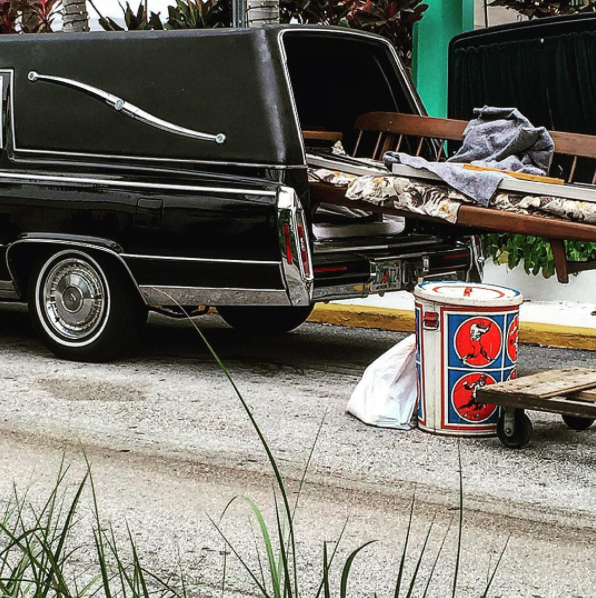 I did buy a pair of lamps at this market which later made it into Justin Shaulis' guest suite at the Christopher Kennedy Palm Springs Show House. Here's a pic of them in situ. Along with a pair of Florence Knoll lounge chairs, a concrete torso sculpture, a pair of granite bookends, a brass floor lamp, a brass dish shaped like a ginkgo leah and a hand hammered brass cache pot all sourced from 20th Century by HKFA.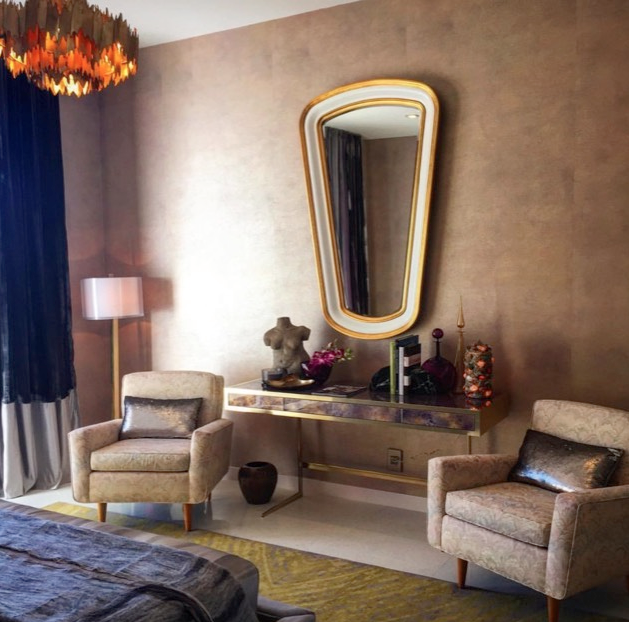 So you really never know where finds might wind up! Now, back to the art. Here's the painting I bought while in Miami. A vintage 1970's Russian Constructivist style hard edge geometric style abstract oil on canvas painting by Dennis Ashbaugh…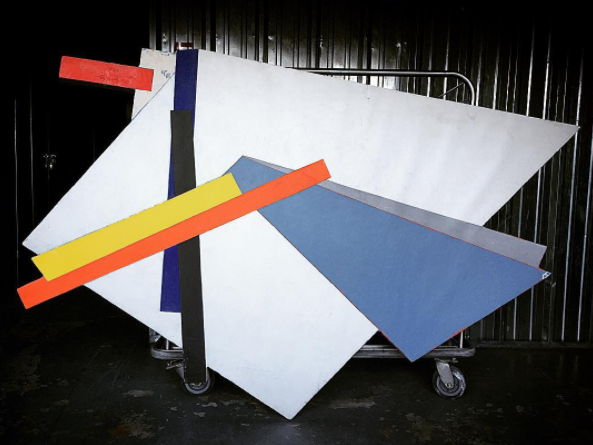 I absolutely love this style of art as it is so linear and graphic. It really ties in to another shaped canvas hard edge geometric abstract oil on canvas painting that I bought a few years earlier which wound up in Patrick Hamilton's Kentucky Derby inspired room, Derby Deconstructed, at the Holiday House show house in New York City…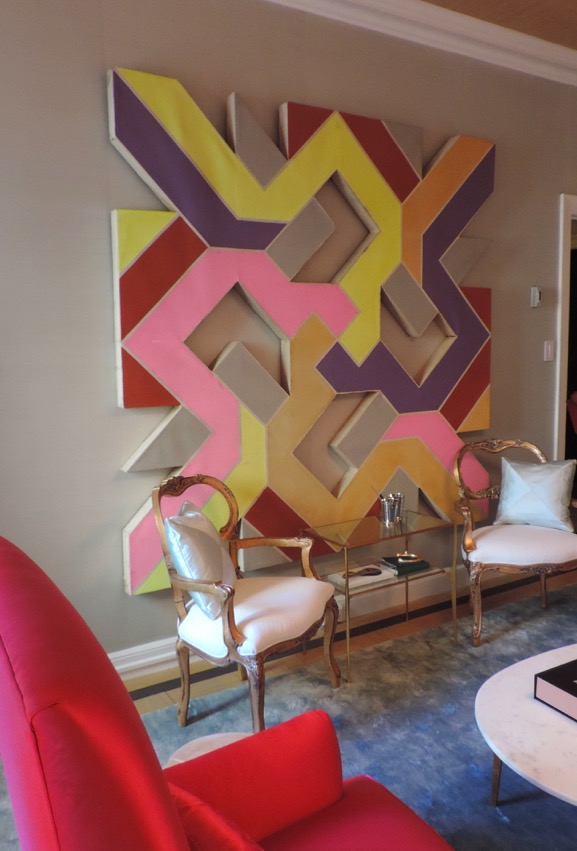 The hard edge style really came about as early as the 1950's and 1960's, but both of my paintings date to the 1970's. This style may have grown out of color field and post painterly abstraction, but it has certainly achieved a category all of its own. Artists were moving away from the expressive qualities of abstraction and into a geometric representation. More linear. With full, flat planes of color and economy of gesture. The shaped canvases especially appeal to me as they represent the art in a very three dimensional way.

01 December 2014
Have you ever heard that? Have you ever said that? Well, we won't be taking names, so don't worry. Maybe you've asked yourself, "what is abstract art?". Here's my take on it. It is emotional. It is strong. It is powerful. Abstract art is more than splashes of color, squiggly lines and paint splatters. It is spontaneity. It is the raw emotion of the artist presented for all who dare to look. It is the visual representation of a feeling, or mix of feelings. An artist strives to represent something without external likenesses. The thing is not represented in realistic terms, but in feelings. This is a mood. This is a movement. This is Abstract Expressionism and it has a lot to do with New York City in the mid 20th Century. The artists of this movement and time were creating spontaneous representations of emotions. These are strong works. These are the works of masters of the form. So where does a Missouri farm boy fit in to all this?

Stephen Pace was a small town boy who flipped a coin. Tails was San Francisco. Heads was New York City. That coin came up heads and Mr. Pace's life was about to change. He served our country in World War II for four years and was then entitled to four years' education. He chose an art school in Mexico. It was here that he met Milton Avery. After his schooling in Mexico, he was on his way home to the farm. Back to his roots where he had taken up drawing and painting those many years ago before he enlisted in the war. Back to his family. He paused. He reached in to his pocket while he stood in that bus depot in New Orleans and he flipped a coin. "I knew if I went back to the Midwest they'd put me to work on the farm...". That thought was all it took.

Arriving in New York City he was immediately thrown into the fast paced art scene. Studies under Hans Hofmann, friends with Willem DeKooning, Franz Kline, Jackson Pollack, mentoring under Milton Avery, trips to Europe. He made the most of his time. He was learning from the best and surrounded by the best. Stephen Pace thought back to those rural days and his figurative paintings, but he wanted to try his hand at something new. Perhaps those four years in the war had built up some emotions in Mr. Pace that needed an outlet? Perhaps he was delving deep to realize an as yet undefined goal? Perhaps he was an artist coming in to his own...

Mr. Pace's abstract works of the 1950's, during the pivotal Abstract Expressionism movement, are among his most provocative and thoughtful pieces. Explosions of color. Of feeling. Of movement. The canvas seems barely able to contain them. The brush strokes leap from the rectangle and push their ways to infinite space. They cannot be contained. They are bold and boisterous. They are real and rousing. They are abstract.

Abstract may be defined may ways by many people. Perhaps your pint sized Picasso has just created his latest fridge worthy work of art. Fantastic. Get the magnets and place it up there in between the to-do list and photo of Fido. Sure, by definition there are emotions in that art. There are bold uses of color. So, maybe your kid could paint that. But this is where we have to step back and take another look at abstract art. Rather than just saying, "Oh, I don't understand that." Take a moment and let yourself be drawn in to the piece. Look for the movement. Where does it lead your eyes? Do you gravitate back to a certain color? Are you looking beyond the canvas? These are questions that really only the viewer can answer for the viewer. Generally an artists work is seen in an exhibition or in some context of presenting an overall understanding of a period of time in an artists life. Viewing one abstract painting and summing up your ideas of abstract art, is like looking at one car and thinking you understand the entire industry. There are lots of artists out there who have lots to say.

Hear their voices in their art. Abstract art is for everyone!