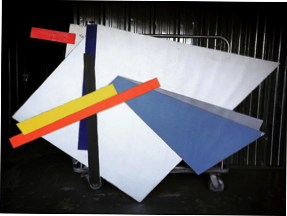 Now. Here. This.
Shopping over Christmas and New Year's was really amazing! Our vacation in Miami was filled with fun, family, friends and fantastic finds. This incredible vintage shaped canvas by Dennis Ashbaugh is from the period when he was exploring Russian Constructivism. Dennis Ashbaugh is the recipient of many awards, among them a New York Council for the Arts Creative Artists Public Service Grant in 1975 and a Guggenheim Fellowship in 1976. These prestigious awards are from the same period as this painting.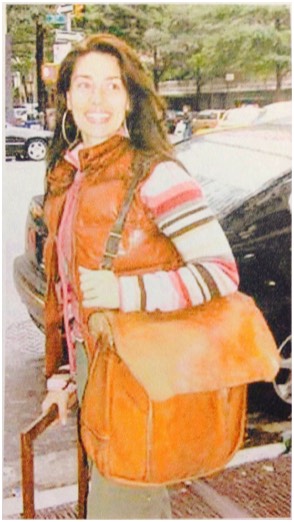 HKFA
Magazine
Everyday I'm Hustlin'
... You know, they say from little acorns mighty oaks grow. And from humble beginnings, satisfying and wonderful business can grow. I'd like to share with you a bit of my story... And I'll start with this photo from 2003 or so. I was stopped by a reporter doing a story on fall fashion. She snapped this pic and wrote a bit about me - working as a frame dealer, finishing up a day of client meetings, selling frames, that I was also rocking the layered look and accessorizing with vintage, etc, etc, etc. Oh, and I still have the vintage leather vest!
Click here
to read my story and about how I was almost featured in a recently released book.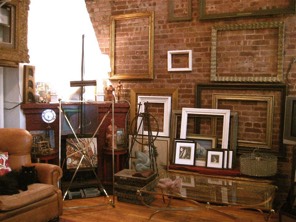 HKFA is Heather Karlie Fine Art...
In a 341 square foot apartment packed to the walls with fine antique picture frames in New York's West Village, Heather Karlie Fine Art was founded in 2002. Reaching out to Manhattan's elite Upper East Side art galleries, I asked for appointments to show them my inventory of picture frames. The reception was warm and I soon found myself schlepping armfuls of frames on the 1 train to Union Square, then changing to the 6 train uptown. Yes. I started my business with a MetroCard. Only a few times was I actually asked to leave the train, most times it was smooth sailing and an interesting ride to boot. It's not everyday when you see someone with ten antique frames on their shoulders. Not even for so-called 'jaded' New Yorkers. I had a business. And an awesome opportunity. Pablo Picasso is quoted as saying, "inspiration exists, but it has to find you working". New York City is the city of inspiration!


And those ten years in New York City, saw me start my business as well as another business… 20th Century by HKFA. Heather Karlie Fine Art is a business for and about art. 20th Century by HKFA is for and about all those crazy things I like to buy…
20th Century by HKFA


Visit my
website
, shop with me at Heart-O-The-Mart in Brimfield every May, July and September or stop by my booth in the Antique and Design Center of High Point during the
extravaganza that is Furniture Market every April and October.
You know it's art when the check clears
Andy Warhol